The gas compressor unit of new type is put into pilot operation at the facility of Surgutneftegas PJSC
28 May 2018
In Khanty-Mansi Autonomous Area (Western Siberia), a joint Russian-Swiss project to introduce a new type of gas compressor equipment for oil and gas production complex facilities is being carried out.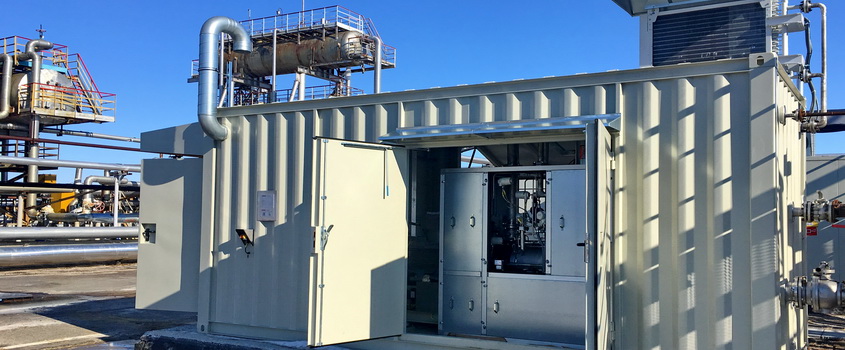 At the BPS-2 of Konitlor field of the Komsomolskneft oil and gas production department (Surgutneftegas PJSC), the small gas compressor unit (SGCU) of Enerproject is put into pilot operation. The SGCU became part of the low-pressure booster compressor station and is designed for the pumping of associated gas with inlet pressure close to vacuum (0...0.09 MPa).
The startup of unit took place within comprehensive 72-hours tests. In the course of the testing there was checked the functioning of process, compressor and electrical equipment and automated control system.

The SGCUs are designed on special (individual) projects and have a set of advantages in their operating segment:
Transportation by standard trucks;
Low pre-start costs;
Minimum commissioning period;
Low operating and maintenance costs;
Affordable price.
The implemented engineering solution makes it possible not only to operate such units in a stationary mode, but also to consistently use one SGCU at different sites. It is important to note that when you move the unit to another facility, you do not need to re-commissioning.
The "small" compressors can operate at facilities without complex infrastructure. There is provided the way for connecting supply lines with flexible pipelines, which makes it possible to integrate SGCU without retrofitting the existing gas pipeline system.
At the Konitlor oil field, the unit with capacity of 350 m3 / h will carry out fine purification of associated gas from the end separation stage, its compression and injection into transport gas pipeline under pressure of 0.85 MPa.

The project is experimental, its goal is to check the operability of this type of equipment in the climatic conditions of Western Siberia and its compliance with the operational requirements adopted at the facilities of Surgutneftegas.
Design and production of pilot SGCU were performed by the Swiss company Enerproject SA. The step-by-step commissioning of the unit (erection supervision, start-up and adjustment works, and cycle of tests) was conducted by the leading engineers of the ENERGAS Group which is official representative and partner of the Enerproject SA in Russia.
According to the results of the pilot operation, a decision will be made on the advisability of equipping the fields of the Surgutneftegas PJSC with similar "small" units.