ENERGAS manufactured and tested a gas receiving station for the peak GTPP of the Berezovskaya SDPP
29 March 2021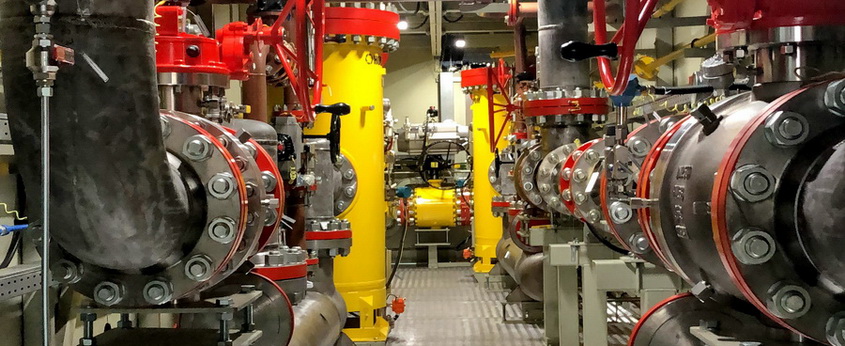 A major investment project is being implemented at Berezovskaya SDPP – a 254 MW gas turbine power plant based on five Siemens SGT-800 turbines is being created. It is one of four peak-standby energy source (PSES) under construction for the unified power grid of the Republic of Belarus.
Being in the mode of continued readiness to launch, the new facility will maintain, if necessary, the balance of generation and consumption of electricity. The equipment of the GTPP is characterized by high maneuverability – it will take less than 15 minutes to responsively start it and fill the power deficit in the power grid.
As part of this project, the Russian Company ENERGAS, under a contract with Siemens Energy AB, supplies gas treatment equipment – gas receiving station. GRS will be installed on supply pipeline and will provide the design parameters of the fuel (in terms of purity, temperature and flow rate) required for the correct operation of the conjugated turbines.
The productivity of station is 72,922 m3 / h. The main elements of GRS are following:
- Filtration system with efficiency of 99.9% for particles larger than 10 microns;
- Gas heating module based on a shell-and-tube heat exchanger;
- Condensate gathering and storage subassembly with underground drainage tank;
- Gas commercial metering unit with a relative error of no more than 1.5%;
- Fuel quality control subassembly.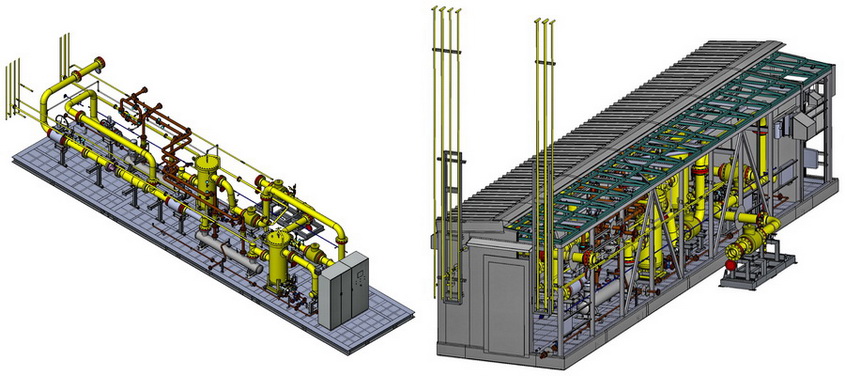 Gas receiving stations is placed in its own enclosure and is equipped with necessary engineering systems, including life support systems (heating, ventilation and lighting) and safety (fire detection, gas detection, alarm and fire fighting). GRS is fully automated; control will be carried out from the upper level of the automated process control systems.
The assembly stage was completed with factory tests carried out in March at the production and engineering site of the ENERGAS Group. Now the equipment is being prepared for delivery to the Berezovskaya SDPP.
At three other Belarusian PSESs, which are being built at existing thermal power plants of the RUE Minskenergo and Vitebskenergo, ENERGAS gas receiving stations will also operate. At Minsk CHPP-5, Lukomlskaya SDPP and Novopolotsk CHPP, they will provide filtration, heating and flow measurement of fuel gas entering the turbines of the peak-standby GTPPs.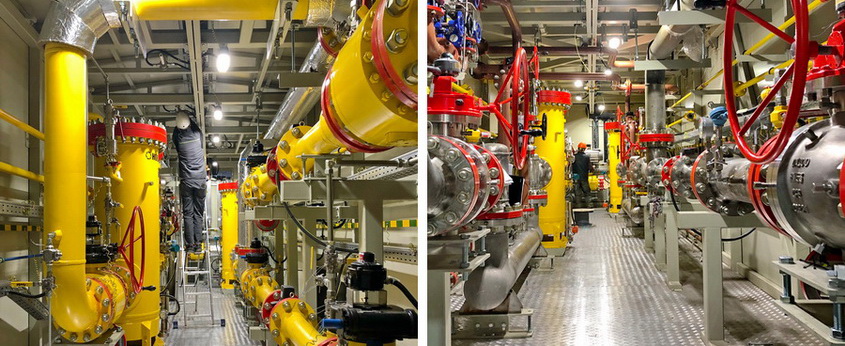 REFERENCE:
Berezovskaya SDPP (branch of RUE Brestenergo) is one of the largest enterprises of the electric power industry in the Republic of Belarus. The power plant ensures the generation and supply of electricity to the country's power grid, as well as heat supply to the industrial enterprises and the housing and communal sector of the city of Beloozersk. At present, the installed electric capacity of the SDPP is 1,095 MW.