Mogilev CHPP-1 has been operating reliably for the benefit of people for 90 years
18 November 2021
Mogilev CHPP-1 is one of the first power plants in Belarus and the oldest in the Mogilev Region. The first steam boiler with a capacity of 25 tons of steam per hour was put into operation on October 15, 1931, and in April 1933, a turbine unit with a capacity of 5 MW was launched. Lumpy peat served as fuel, supplied from the left bank of the Dnieper by cableway over two kilometers long.
During the Great Patriotic War, the power plant was fully destroyed. After the liberation of Mogilev, its restoration began, and in August 1949 the newly rebuilt CHPP was integrated with the Belarusian power grid.
Today, MCHPP-1 provides electricity and heat resources to the housing and communal sector, industrial enterprises and the administrative and amenity complex of the southwestern part of the city.

Over the years of its existence, the CHPP has been repeatedly upgraded, planned reconstructions using modern technologies and new equipment increase energy efficiency, support the reliable and cost-effective operation of the veteran power plant.
End 80s.
MCHPP-1 was switched to combustion of liquid fuel - fuel oil.
Early 90s.
Power plant is supplied with "blue fuel" - natural gas.
1997.
The turbo unit R-6-35/5-1 (st. No. 1) with a capacity of 6 MW was commissioned.
2004.
Exhausted turbine st. No. 5 was replaced by a turbo unit R-6-35/5-1 with a capacity of 6 MW.
2015.
Electrical equipment of the CHPP was reconstructed.
2016.
The 1st stage of the large-scale project "Reconstruction with use modern combined-cycle technologies" was implemented. Four obsolete steam boilers (st. No. 1-4) were dismantled, a gas turbine LM2500+ (General Electric) with a rated electrical capacity of 26.5 MW and a waste-heat boiler К-37/3.9-346 (NPO BZKO) with a steam capacity of 37 ton / h were installed.

New auxiliary electrical and heat engineering equipment was installed. A 110/10/6 kV substation was commissioned with a closed switchgear and two power transformers of 40 MVA each.
To feeding quality fuel to the gas-turbine power unit, the facility was equipped with special process complex – ENERGAS gas treatment system which comprises a compressor station of two package booster units, a preliminary gas filtration unit, and an underground drainage tank for condensate gathering.
The first stage of project has ensured additional power generation 157.6 million kWh a year and saving about 18 thousand tons of reference fuel per year, improved the environment, increased maneuverability of the power grid, the reliability of heat and power supply to all kind of consumers. The power plant electrical capacity increased almost 2.5 times – from 21.2 to 47.7 MW.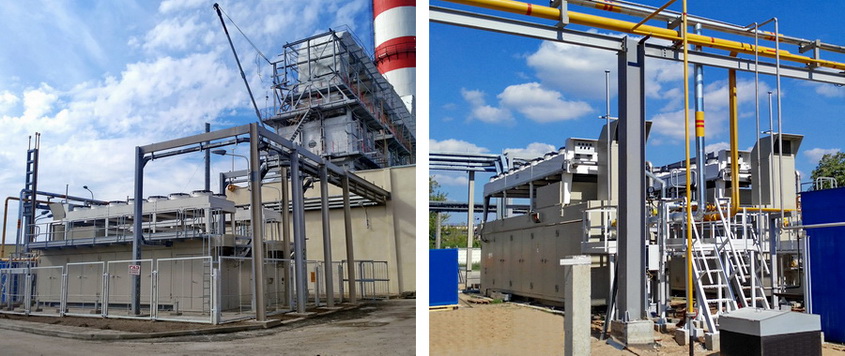 2018.
Own sewerage networks, utility and drinking water supply networks, a coastal pumping station on the Dnieper river, and new river conduits were built.
2019.
The 2nd stage of the project "Reconstruction with use modern combined-cycle technologies" was completed. Two AP-6 steam turbines with a capacity of 4.6 MW each from the Czech Skoda plant, produced in 1953 and 1954, were dismantled. Instead of the exhausted turbines, two steam turbo units TWIN KK&K CA56 (Howden Turbo GmbH) with an electrical capacity of 6 MW each were installed. To control them, an automated process control system is provided. Also, within the framework of the project, the steam pipelines of boilers st. No. 5-7 were replaced, the collectors of the selected steam were reconstructed.
The results of the upgrade are additional saving of resources in the amount of 2.9 thousand tons of standard fuel per year and reduction of pollutant emissions – nitrogen oxides by 17, and carbon oxide by 3 tons per year. The electric capacity of Mogilev CHPP-1 increased by 2.8 MW and amounted to 50.5 MW.

2020.
Reduction-cooling unit st. No. 8 was put into operation to provide its own steam needs.
2021.
Gas facilities of the PTVM-100 boiler unit (st. No. 1) were reconstructed. At the end of the year, it is planned to commission two units of the reverse osmosis system with the replacement of condensate tanks.
Equipment changed, new people came as well - generation after generation stood at the consoles of boilers and turbo units to give the city with the necessary heat and electricity. One thing remains unchanged: professionalism, responsibility, love for one's profession - these qualities have always distinguished the team of CHPP-1 workers.