ServicENERGAS – priority for the overhaul and upgrade of process units for gas treatment
Meeting with Alexander Kramskoy, CEO of ServicENERGAS (ENERGAS Group) took place in May, when economic conditions in the country had already changed drastically. The relevance of this conversation is in an effort to comprehend the emerging features of work in the segment of process equipment for gas treatment.

- Alexander Alexandrovich, how ready is your team today to work under the sanctions conditions?
- For us, this situation, in a certain sense, has become an unexpected "extraordinary" test of our performance. Of course, it took some time to understand what was happening and to outline our specific actions, given that macroeconomic decisions were "raining down" from the governments of countries "unfriendly" to Russia in a non-stop mode.
We put the timely execution of existing contracts in the first place and dealt with this fairly quickly. We have created a reserve of spare parts and consumable materials to perform the entire range of repair and maintenance work for previously delivered equipment - booster compressor units and gas treatment facilities.

Cooperation with key partners, including foreign ones, is long-term and has a solid margin of safety of was a factor that also helped. For all of them, by the way, the situation also turned out to be extraordinary.
One example is our interaction with process fluid manufacturers. We maintain gas booster units based on screw compressors, and only high-quality oil should be used in the oil system of such units. Its periodic replacement is a indispensable and significant component of the maintenance of compressor machines. And today, when a number of compressor oil manufacturers have left the Russian market, our company helps all consumers daily by providing them with lubricants and other consumables.
We use ESTSYN, a new generation ester synthetic oil that has been extensively tested and recommended by compressor equipment manufacturers, including Enerproject and VPT Kompressoren. This oil has proven its effectiveness in the most severe operating conditions, in different climatic zones of Russia, including when working with a complex gas composition.
Operational experience convinces - ESTSYN successfully replaces oils from manufacturers who have left the Russian market. And this helps us to carry out scheduled and response maintenance of processing units involved in compressing various types of gas within strictly established deadlines.

- You mentioned foreign components of the equipment. How much does this complicate the repair and maintenance of equipment today?
- If we talk about static equipment - that is, gas treatment stations and units manufactured and supplied by ENERGAS - they are Russian. For several years we have been working on localization and replacing imported components with domestic ones in new projects. A lot has been done. Difficulties remain in terms of monitoring and metering instrument and automation. Now, taking care of the reliability of our units, we choose among the suppliers of monitoring and metering and automation only those whose products meet the highest quality requirements.
OUR REFERENCE. ENERGAS gas treatment units, stations and systems are multifunctional units that, depending on process tasks, filter gas from mechanical impurities and remove liquid fractions, heat gas and reduce its pressure, dehydrate and odorize gas, perform technological and commercial metering, control gas quality, determine the component composition, measure and analyse various gas parameters (humidity, temperature, pressure, calorific value, density, dew point).
Concerning rotating equipment, I will say that there is still a lot of work to be done. The critical elements in its composition are screw oil-filled compressors, and they are imported. Therefore, the importance and need for high-quality repairs, deep modernization and proper routine maintenance of such equipment are growing in the current conditions.
OUR REFERENCE. ENERGAS compressor units operate in a wide capacity range (250 … 60,000 m3 / h) and compress various types of gas for transportation or supply to the turbines of generating facilities. A unique experience has been gained in compressing low-pressure APG, this segment utilizes 126 units, pumping associated gas with an inlet pressure from -0.2 MPa (g).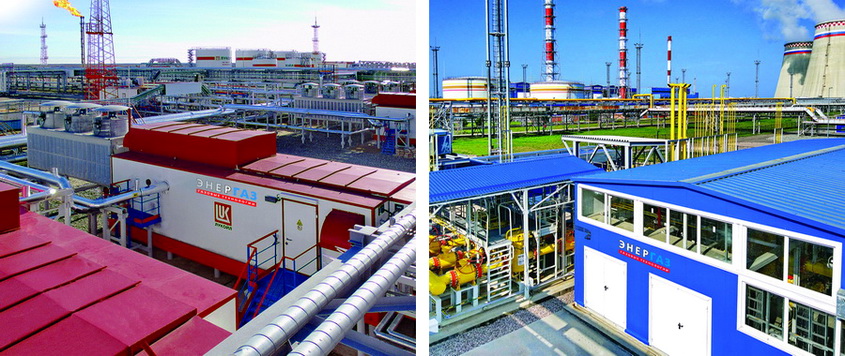 - Is there a specific plan for how to get out of this situation?
- First of all, I would like to emphasize that we are ready, together with our long-term partners and potential customers, to resolve all issues related to emerging nuances in a positive business manner. And not only for the work of our energy and gas equipment, but also, I emphasize, for the existing gas treatment plants of any foreign or domestic manufacturer.
We have prepared and are effectively using a modern maintenance and industrial base. This is especially relevant for compressor equipment, whose service life requires major overhauls. Several regions have set up warehouses for spare parts and consumable materials. Service engineers undergo mandatory recurring training, as well as certification, where they confirm their qualifications. So our competence has the necessary professional and material basis.
Today, our team has considerable organizational experience in full-scale engineering. After all, every time we take on a new project, we carry out sets of customer requirements arising from the functional purpose of gas treatment equipment and its operating conditions. And we have completed over 170 such individual custom, in essence, projects.
OUR REFERENCE. Since 2007, ENERGAS has supplied 315 process units for gas treatment and compression. In the electric power industry, ENERGAS units provide fuel for 220 gas turbines and gas-reciprocating gensets with a total capacity of over 6.7 GW. In the oil and gas industry, ENERGAS equipment treats natural and associated petroleum gas as part of 62 various facilities at 47 fields.

- Alexander Alexandrovich, what other difficulties remain?
- To date, we have found solutions to almost all issues that really caused problems this spring. However, we do not exclude that there may be difficulties with logistics. For example, delivery times for some components may increase. We see these risks and try to make provisions for them.
Today I can confidently say that the ServicENERGAS team values its long-standing reputation and fights in these difficult times for rigorous and high-quality fulfilment of obligations to partners and customers. We have already made the main conclusion for ourselves: difficulties of any order only mobilize our will to achieve a successful result, concentrate strength and professional responsibility.
- I would like to hear particular cases.
- Today, our service and technical division is focused on planned and response work, carried out on time and with high quality - under strict organizational and technical control. Since the beginning of this year, our specialists have already carried out about 100 service trips.
So, for example, at the Usinsk field of LUKOIL-Komi, we performed a scheduled overhaul of two booster compressor stations (BCS) for associated gas, feeding the turbines of local power supply complex with fuel. The repair of the main elements of the stations - screw oil-filled compressors - was carried out at the site of the our Repair and Training Center. Simultaneously, a comprehensive maintenance of the BCS was fulfilled with the replacement of spare parts and consumables, including oil, oil filters and gas filters of all 3 stages of purification.
For the overhaul period, we brought the working station to its maximum capacity, which provided the necessary gas fuel flow rate for the uninterrupted operation of the entire power supply complex.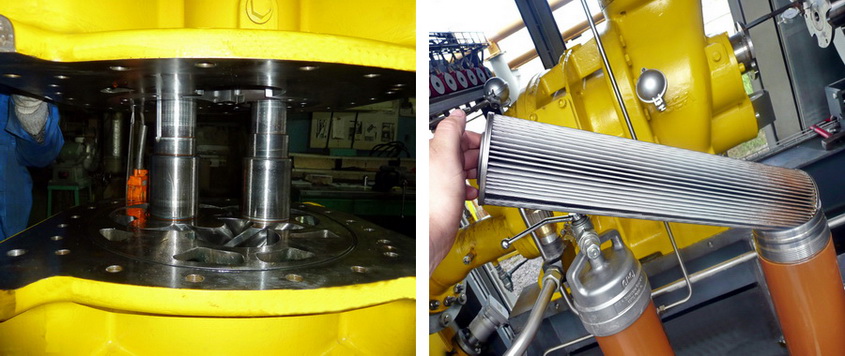 Also noteworthy is the project to restore the serviceability of the fuel gas BCS operating as part of the gas-turbine power unit of the Tomsk CHPP-1. The equipment diagnostics carried out by our team revealed the need to upgrade the power supply system. An perfected smooth start device for the main electric motor was installed at the compressor station, which has more protections, differs in the flexibility of settings and has improved starting characteristics. The range of service and technical measures also included local repair, repeated adjustment and tests of the BCS.
I want to note that we have restored the serviceability of this station without any significant changes in the its design and project documentation, without reconfiguring the software and configurations of the process unit.
I will return to the currently relevant topic of lubricants for rotating equipment. Recently, our engineers performed maintenance of the booster compressor station operating as part of the complex for testing gas turbine units of JSC Nevsky Zavod. This BCS feeds the testable turbines with gas with specified parameters in terms of purity, temperature, pressure and flow rate.
The frequency of BCS maintenance depends here on the number of starts. Comprehensive maintenance was carried out after reaching 200 starts performed as part of turbines tests. We have perfected this station. Its oil system now uses ESTSYN oil which is specially created for units made based on screw compressors. The oil of ESTSYN CE100 brand ensures the efficiency of units in such intensive operation, increases their reliability and service life.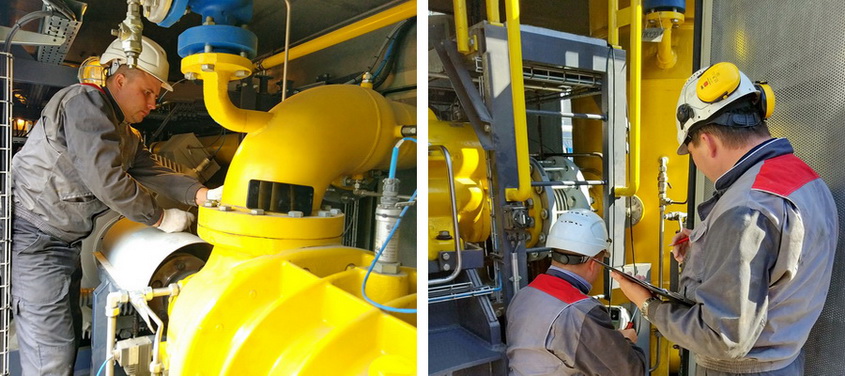 - Does the experience of working during the pandemic help you?
- Of course, it helps. I even see some similarities here if we talk about the company's ability to mobilize. At a time when in some regions of the country the entry to fields and enterprises of customers was restricted, we, rigidly following sanitary requirements and maintaining quarantines, rigorously ensured the work of our service engineers, delivered equipment and spare parts, tools and accessories promptly. Even colleagues from other companies asked us to share our experience organizing such work. There is no secret: we studied regulatory documents, worked out the necessary letters and internal regulations, and most importantly, we carefully prepared people for such trips, and mandatory considered the duration of the quarantine.
- In which regions does ServicENERGAS operate?
The geography of our engineering work is extensive. There are projects completed in Belarus, Kazakhstan, and Uzbekistan. In Russia, you will find ENERGAS equipment literally everywhere - at various gas-using industrial and energy facilities from Sakhalin to the Kaliningrad Region, including, of course, the traditional oil and gas producing regions - the Tyumen Region, the Republic of Sakha-Yakutia, the Far North - to name a few.
In the process equipment segment, we are fully prepared to explore new horizons professionally and carry out comprehensive gas treatment projects of any complexity with the acceptable quality.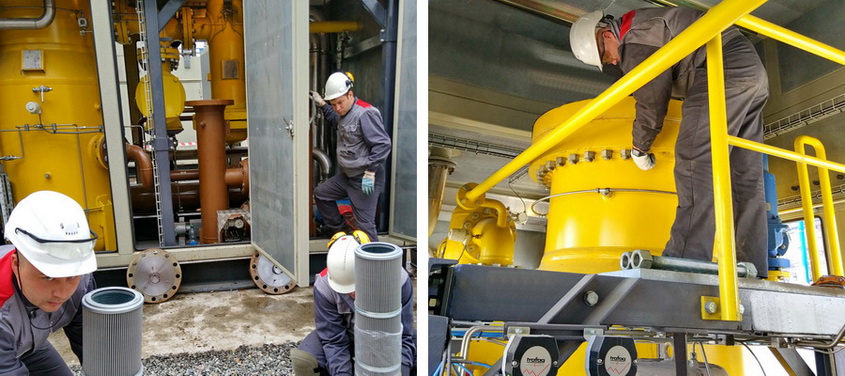 Specialized magazine "Gas Turbine Technology"
Download as PDF