Fuel and starting gas treatment systems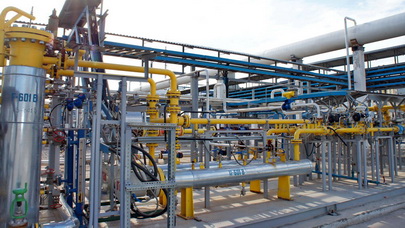 ENERGAS fuel and starting gas treatment systems (FSGTS) operate as part of main compressor stations and provide gas-pumping units with fuel and starting gas with set design parameters for purity, humidity, temperature and pressure.
Units with an additional function of impulse gas treatment are also available.
Purpose of the FSGTS:
- Gas filtration from mechanical impurities;
- Gas separation from liquid fractions;
- Dehydration of impulse gas;
- Gas heating;
- Pressure reducing;
- Flow rate measuring;
- Gas quality control.
Main equipment composition:
- Gas purification system based on two-stage coalescing filters;
- Subassembly of condensate gathering and storage with drainage tank;
- Dehydration unit of impulse gas, consisting of dryers-adsorbers;
- Gas heating module (based on liquid exchangers or explosion-proof electric heaters);
- Multi-line pressure reducing subassembly;
- Commercial or process metering unit;
- Gas quality control module with measuring and analytical equipment;
- Automated control system.
Gas treatment systems are designed according to individual projects and are manufactured taking into account the operating conditions (including climatic), the composition and quality of the source gas, the type and characteristics of the conjugated gas-consuming units, and the special project requirements of customers.
Equipment is fully automated and aimed for intensive operation mode. The capacity (gas flow rate) of the FSGTS reaches 100,000 m3 / h. It is supplied in an easy-to-assemble enclosure, container version or on open frame.
ENERGAS process units have the maximum degree of factory readiness upon delivery (98%), are characterized by the high maintenance ability and long service life – at least 25 years. The technical use ratio is 0.92+, the confirmed rating of reliability in operation is 0.95+.

Using form provided here, you will receive as soon as possible:
additional information from ENERGAS specialists;
professional advice on issues of interest.
You can also:
make a request for the supply of equipment;
Request service support, upgrade or repair of equipment;
Send a proposal for cooperation;
Submit your review and suggestions.
To receive a quotation, please complete and submit a data sheet. Our experts will prepare the quotation and be sure to contact you.
Download data sheet form
Спасибо!
В ближайшее время наши специалисты ответят вам.
Следите за нашими новостями в социальных сетях