Already 200 gas-turbine and gas-reciprocating units receive fuel gas from ENERGAS process units
5 June 2020
ENERGAS Group of Companies is recognized leader in fuel gas treatment. At generating facilities, ENERGAS equipment provides high-quality fuel for gas turbine units (GTU) and gas reciprocating units (GRU) of leading Russian and world manufacturers: UEC-Gas Turbines and UEC-Saturn, UEC-Aviadvigatel and UEC-Perm Motors, KMPO, Chernyshev MME, Motor Sich, Russian Gas Turbines, Alstom, Solar, Pratt & Whitney, Rolls-Royce, Kawasaki, Wartsila, Cummins, Caterpillar, Siemens, GE (see diagram below).
Now the number of these power units has reached 200. Of these, 109 run by the natural gas, 91 – by the associated petroleum gas. GTU and GRU function as part of gas-turbine, gas-reciprocating and combined-cycle power generating units at large power plants, small energy facilities, autonomous power supply centers for industrial enterprises, and auxiliary power supply complexes of fields. The range of unit capacity of GTU and GRU is 1.2 … 187 MW, their total electric capacity exceeded 6.5 gigawatts.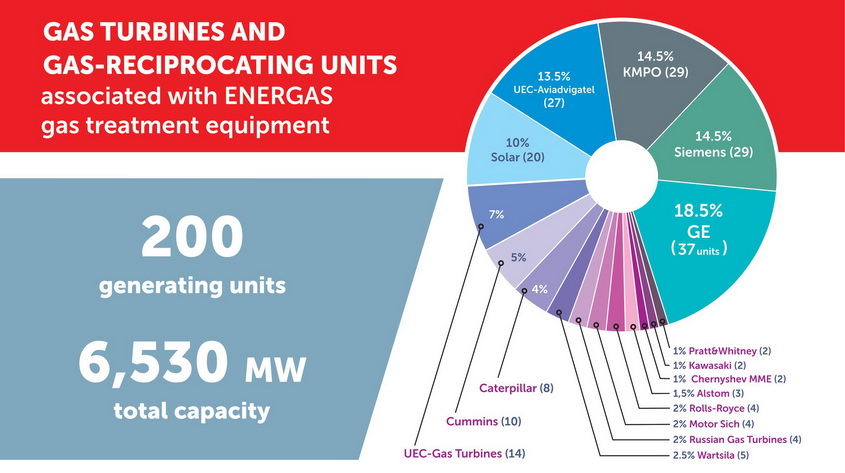 ENERGAS equipment also supplies fuel to the gas turbines that undergo factory testing at test benches of PJSC Proton-PM, JSC UEC-GT, CJSC Nevsky Zavod and PJSC UEC-UMPO. In the procedures of fuel gas treatment at generating facilities and special benches, 222 ENERGAS process units are involved - these are gas treatment stations and gas compressor stations of various types and versions.
The company currently has 167 projects, their geography is from Sakhalin to Kaliningrad. Modular units operate in the Far East, in Yakutia and Siberia, in the Far North, in the southern and central regions of the country, in Moscow and St. Petersburg, as well as outside the country – in the Republics of Belarus, Uzbekistan and Kazakhstan.
ENERGAS Group provides a full cycle of projects implementation: engineering, production, delivery, installation, commissioning, testing, training of customer's personnel. In addition to pre-launch activities, specialists carry out maintenance, routine and major repair, upgrade and comprehensive reconstruction of operating equipment.