The operating time of gas turbines from UEC-Aviadvigatel exceeded 30 million hours
14 February 2020
In February 2020, the total operating time of industrial gas turbine equipment created by JSC UEC-Aviadvigatel exceeded 30 million hours.
Since 1992, Perm Design Bureau has developed over 100 modifications of gas turbine units (GTU). Two GTU families have been introduced into mass production – for gas-pumping units and power plants. The capacity of these GTU is 2.5, 4, 6, 10, 12, 16 and 25 MW.

Among the significant developments of UEC-Aviadvigatel in recent years is a low-emission combustion chamber (MEKS) for turbines, which reduces the level of emission of harmful substances to the State All-Union standard (GOST) 29328-92. The creation of an industrial engine with a low-emission combustion chamber based on a PD-14 gas generator with a rated capacity of 12 MW has begun.
Currently, over 1,000 Perm gas turbines with total electrical capacity of 12,819 MW operate on facilities of PJSC Gazprom, PJSC LUKOIL, PJSC Surgutneftegas, PJSC NOVATEK, PJSC Rosneft, and other Russian fuel and energy companies. Of these, 367 turbines are used in the electric power industry, and 662 - in the transportation of hydrocarbons.

The equipment from UEC-Aviadvigatel participates in significant projects: Nord Stream, Power of Siberia, Yamal, and others. It should be added that the GTUs, working on associated petroleum gas, ensure its rational use and help customers maintain established environmental standards.
In addition to designing, Perm engine builders provide delivery, testing, erection supervision, adjustment of units, and training of customer personnel. UEC-Aviadvigatel successfully implements branded repair and maintenance of its equipment, guaranteeing its reliable operation throughout the entire life cycle. The enterprise was the first among the suppliers of gas turbine units to implement after-sales service with payment for the actually completed machine hours.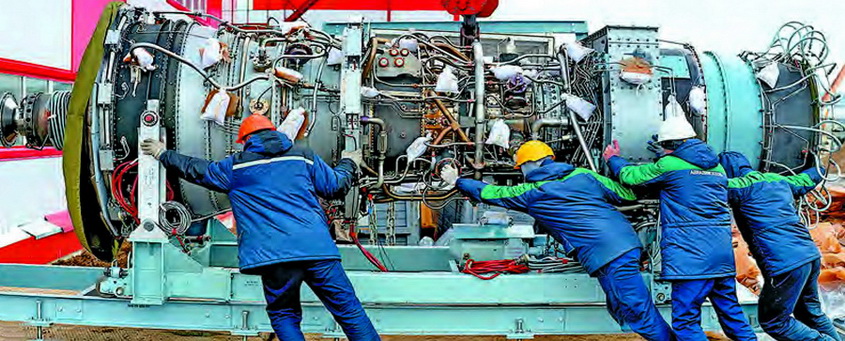 The important factor in achieving the design efficiency, reliable operation and full running out of the operational life of generating equipment is the high-quality treatment of fuel gas. The leader in this area is the ENERGAS Group of Companies.
Today, 212 booster compressor stations and packaged gas treatment stations of ENERGAS supply 187 power units (with total electrical capacity of 6.49 GW) of leading Russian and foreign manufacturers with fuel. Among them, 22 process units provide fuel gas for 27 turbines from UEC-Aviadvigatel.