ENERGAS has reached the mark of 300 supplied process units for gas treatment and compression
6 October 2020
ENERGAS Companies Group specializes in design, production, commissioning and maintenance of gas treatment equipment for various facilities in the electric power industry, oil and gas complex and gas-using industrial enterprises.

The ENERGAS Group operates from Kaliningrad to Sakhalin. Process units function at the Far East, Siberia and the Far North, in the southern and central regions of the country, in Moscow and St. Petersburg, as well as outside the Russia – in the republics of Belarus, Kazakhstan and Uzbekistan.
Taking into account the projects being implemented in 2020, ENERGAS has reached the mark of 300 actually supplied modular units for gas treatment and compression
(Fig. 1)
. The range of their unit capacity is from 270 to 185,000 cubic meters per hour. The total capacity of this equipment exceeded 4 million m3 / h.
ENERGAS gas treatment units and gas compressor stations are operated at the large power plants, small energy facilities, autonomous power supply centers for industrial enterprises, gas gathering and transportation facilities, auxiliary power supply complexes of fields, oil and gas processing enterprises, as well as at special purpose facilities – test benches for gas turbines and technical training centers
(Fig. 1)
.
The working medium is different types of gas: natural, associated, low-pressure petroleum gas, off-gas, boil-off gas, cenomanian water gas, air, condensate de-ethanization gas
(Fig. 1)
.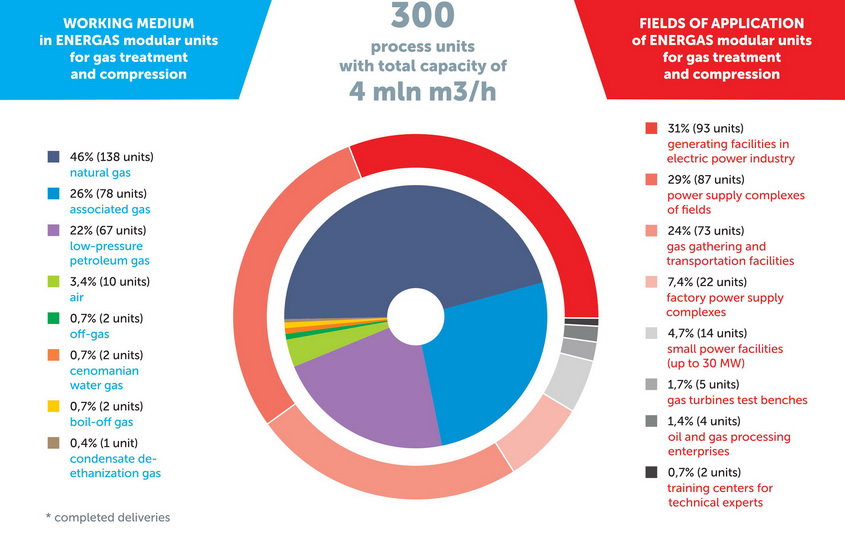 In the oil and gas industry, ENERGAS units operate at 62 facilities in 47 fields. Among them: power plants; oil treatment plants; oil processing and pumping shops; oil verification departments; booster pump stations; main transfer pumping stations; preliminary water removal units; central production facilities; oil and gas gathering facilities; terminal separation units; condensate de-ethanization units; condensate stabilization units; acceptance points; transportation systems of liquid hydrocarbons; complex gas and condensate treatment plants.
In the electric power industry, at 76 generating facilities, ENERGAS equipment provides high-quality fuel for gas-turbine and gas-reciprocating units of leading domestic and world manufacturers. The number of such power units has reached 200. The range of their unit capacity is from 1.2 up to 187 MW, total electric capacity exceeded 6.5 gigawatts
(Fig. 2)
. These statistics do not include units undergoing factory testing at the test benches of PJSC Proton-Perm motors, JSC UEC-Gas turbines, CJSC Nevsky Zavod and PJSC UEC-UMPO, which also receive fuel from gas treatment units.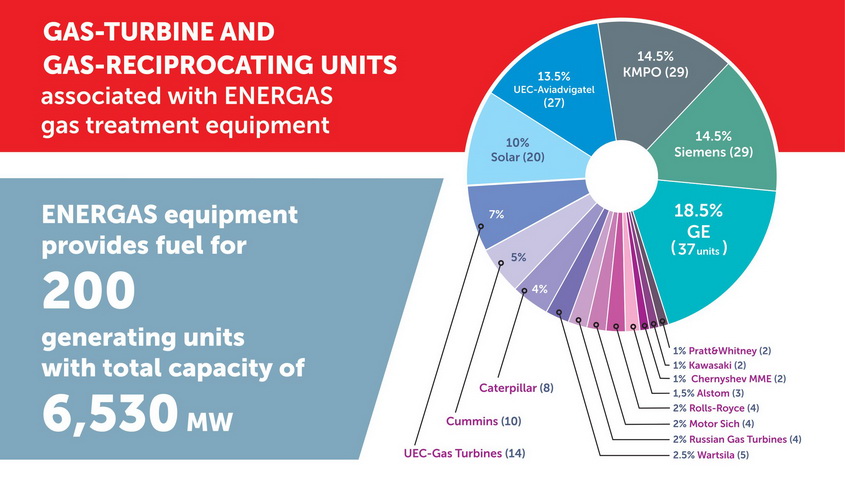 All equipment is developed according to individual projects and is manufactured taking into account the scope of application, operating conditions (including climatic), the composition and quality of the source gas, the type and characteristics of the conjugated gas-using units, and the special project requirements of customers.
ENERGAS Group carries out a full cycle of projects implementation: engineering, production, delivery, installation, commissioning, testing, training of operational personnel. In addition to pre-launch activities, specialists conduct maintenance, routine and major repair, upgrade and comprehensive reconstruction of own equipment and process units of other manufacturers.