JSC UEC-Aviadvigatel celebrated its 80th anniversary
3 January 2020
New Year holidays came to an end, and the Russians all together, without warming up, took up the implementation of work plans. An example here is the well-known JSC UEC-Aviadvigatel, whose 80th anniversary from the date of creation was celebrated by the country last December. Thanks to the Permian's report, we'll look into the history of the glorious generations of this team once again and evaluate the affairs of current engine builders.
The Perm scientific and design school has made a unique contribution to the theory and practice of world engine manufacturing. The classics of design became: reciprocating-type ASh-62IR, the first D-20P double-flow engine (for Tu-124), the first helicopter engine with a free D-25V turbine (for Mi-6, Mi-10, and Mi-10K), and the first electronic engine control system, high-pressure compressor, high-temperature turbines.
Today, JSC UEC-Aviadvigatel (part of the United Engine Corporation) is a design bureau, a developer of aviation and industrial gas turbine engines, which, with over 80 years of its activity, has developed more than 70 types of engines, of which 41 types (60%) were produced in series.

Perm reciprocating-type engines designed by Arkady Shvetsov were equipping aircraft like La-5/7, I-15/16, Tu-2, Tu-4, Tu-14, Il-14, An-2, Mi-4, Yak-24 helicopters. Aircrafts Tu-124, Tu-134, Il-62M, Tu-154M, Il-76 and its modifications were equipping with Perm gas turbine engines designed by Pavel Solovyov.
The most important achievement of the Russian aviation industry was, and remains, the fourth-generation engine PS-90A for passenger and transport aircrafts such as Il-96, Tu-204/214, and Il-76TD-90. Air equipment with engines of the PS-90A family is in service with Russian and foreign airlines: Volga-Dnepr, Red Wings, Silk Way Airlines, Cubana, and others. Perm engines are installed on aircraft of the special Rossiya flight squad.
Today, UEC-Aviadvigatel is the lead developer of the new-generation PD-14 engine for the MS-21-310 aircraft. In terms of the scope and complexity of the technical, technological, and economic tasks in the field of aircraft engine building, the creation of the PD-14 has gained the scale of a large project in Russia. In 2018, the engine received a Certificate from the Federal Air Transport Agency (Rosaviation), which confirms the compliance of the PD-14 with airworthiness standards, international environmental standards and indicates its readiness for installation on an aircraft.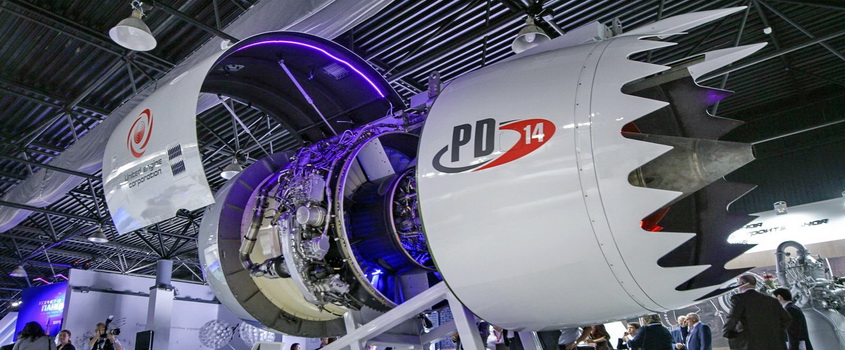 For the first time in the history of domestic engine building, the Design Bureau in 2018 began the development of a family of high-thrust engines based on a unified gas generator. With its creation, Russia will return to the market of passenger and transport long-range wide-body aircraft.
In the work annals of the collective, gas turbine engines for industrial use also took their rightful place. Since 1992, UEC-Aviadvigatel has developed and introduced into serial production gas turbines units for power industry, gas and oil transportation with a capacity of 2.5, 4, 6, 10, 12, 16 and 25 MW.
Among the significant developments of recent years is a low-emission combustion chamber (MEKS) for industrial turbines, which reduces the level of emission of harmful substances to the State All-Union standard (GOST) 29328-92. By order of PJSC Gazprom, in the Perm Design Bureau, work has begun on the creation of an industrial engine with a low-emission combustion chamber based on a PD-14 gas generator with a rated capacity of 12 MW.
It should be noted that the equipment developed by UEC-Aviadvigatel participates in significant projects: Nord Stream, Power of Siberia, Yamal, and others. The Perm Design Bureau was the first among the suppliers of gas turbine equipment to service the power units with payment for the actually completed machine hour.
Today, over 1,000 industrial gas turbines operate on facilities of PJSC Gazprom, PJSC LUKOIL, PJSC Surgutneftegas, Bashkir Generating Company LLC, PJSC Rosneft Oil Company, PJSC NOVATEK, and other Russian fuel and energy companies. Their total capacity is 12,819 MW; the total operating time is approaching 30 million hours.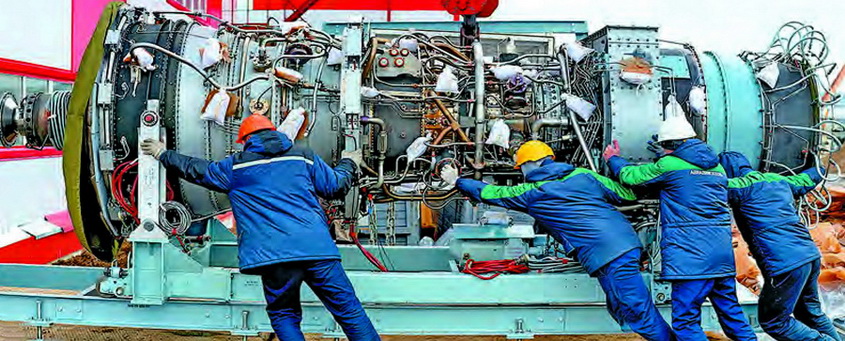 It should be added that the UEC-Aviadvigatel equipment, working on associated petroleum gas, ensures its rational use and helps customers maintain established environmental standards.
The most important factor in achieving the design efficiency, reliable operation and full running out of the operational life of generating equipment is the high-quality treatment of fuel gas. We are proud that in this field the long-standing partner of UEC-Aviadvigatel is the ENERGAS Group of Companies.
Let us recall that 212 booster compressor stations and packaged gas treatment stations of ENERGAS supply 187 power units (with total electrical capacity of 6.49 GW) of leading Russian and foreign manufacturers with fuel. Among them, 22 process units provide fuel gas for 27 turbines from UEC-Aviadvigatel.

We wish this team a new decade of professional achievements, unfading design inspiration, engineering talent, technological accuracy and scrupulosity, that is, the highest quality of work, worthy of the legendary UEC-Aviadvigatel history.