ServicENERGAS experts performed repair of the vacuum compressor stations at Vyngapur field
25 January 2020
Last December, as part of contract with JSC Gazpromneft-Noyabrskneftegaz, the experts of the service company belonging to the ENERGAS Group carried out a technical audit of the four vacuum compressor stations (VCS) operating at the BPS-1, BPS-2, and BPS-3 of Vyngapur field.

At these facilities, the VCSs form the basis of a system for recovery of APG coming from low separation stages. Process units perform compressing low-pressure (0.001 MPa) associated gas; compressed APG is injected into the gas transportation system under the pressure 0.7 MPa.
There were compiled defect sheets, prepared recommendations for replacing faulty and worn out assemblies and elements, drawn up plan for local restoration works and major repair of the compressor stations.
Based on the results of the inspection, ServiceENERGAS LLC engineers performed repair activities, the most extensive of which were on the VCSs functioning at booster pump stations No. 1 and No. 3.
Among other things, the range of works included the dismantling of compressors, their delivery to the repair site in Noyabrsk and back, the actual repair of the units, re-installation, adjustment, and own and integrated tests of VCS as part of the facilities.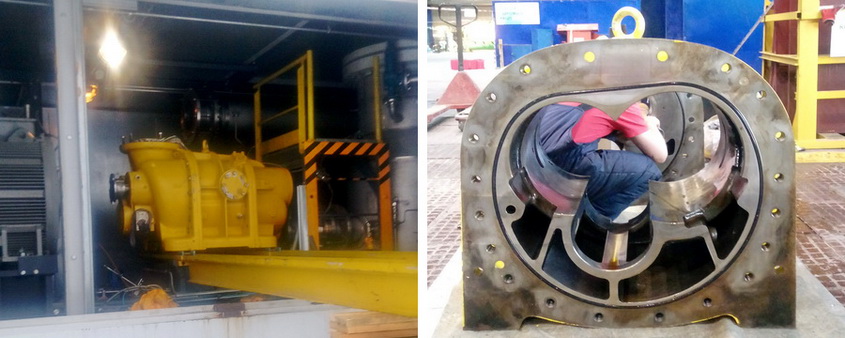 Vacuum CSs are made on the basis of oil-filled screw compressors. The rated capacity of the units is from 1,500 m3 / h to 4,000 m3 / h; gas flow is controlled by a special two-level regulation system. VCSs operate in an automatic mode; local ACSs are integrated with the upper level of APCS.
REFERENCE:
Vyngapur oil and gas condensate field is located in the Purovsky District of the Yamal-Nenets Autonomous Area. It was discovered in 1968 and has been in commercial development since 1982. It has a well-developed infrastructure. It is one of the largest fields of JSC Gazpromneft-Noyabrskneftegaz and along with Sporyshevskoye, Kholmogorskoye and Chatylkinskoye fields provides the bulk of the company's production.
Gazpromneft-NNG is engaged in oil and gas production activities in the Yamal-Nenets and Khanty-Mansi Autonomous Areas. Taking into account the branch of Gazpromneft-Muravlenko, the company develops more than 30 fields. The main part of the fields is located in the Yamal and territorially related to the Purovsky, Krasnoselkupsky and Nadym Districts of the Area.