Combined cycle gas turbine unit of Novogorkovskaya CHPP – five years of energy generating for consumers of the Kstovo
23 December 2019
Five years ago, Novogorkovskaya CHPP (Kstovo, Nizhny Novgorod Region) received incremental capacities via upgrade. Power plant enlargement was conducted on investment program of "Diadem" of the T Plus Group – the largest Russian private company operating in the electric power industry and heat supply.
Within the framework of the project, called "Rubin", a modern combined cycle gas turbine unit (CCGT) consisting of two power generating units was put into operation here in December 2014. The main equipment of CCGT is two Alstom gas turbine units (GTU) made based on GT13E2 turbines and 50WY21Z-095 generators as well as two waste-heat boilers.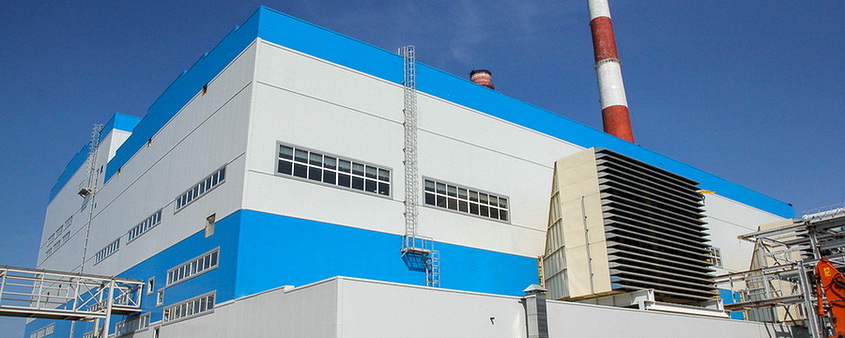 CCGT with rated capacity of 350 MW (actual – 343.3 MW) is integrated with existing steam-power units of CHPP. Such design has provided an efficient combined cycle of the power plant operation; it not only increased its capacity, but also increased the overall efficiency.
CHPP reconstruction ensured future electrical and thermal needs of Kstovo district. After upgrade, the installed electrical capacity of power facility is 557 MW; the thermal capacity is 626 Gcal / h.
Alstom turbines of the GT13E2 type have a high efficiency (38%) and are one of the most versatile in its class. In addition, they provide high performance at partial load (50%) and have low NOx emissions when operating over a wide range of temperatures. The engine is started in less than 15 minutes.
Gas turbine units of this type were first installed in Russia precisely at the Novogorkovskaya CHPP. The electric capacity of GTU-1 is 176.2 MW; GTU-2 is 175.8 MW.
In 2019, an inspection type "C" (major overhaul) of GTU with the replacement of the main parts took place at the facility. Such large-scale maintenance works on gas turbines were held here for the first time. According to the regulations, they should be carried out after 36 thousand hours of operation, that is, on average once every five years.

Feeding gas lines are equipped with automated commercial gas-metering unit manufactured by ENERGAS. The GMU of type GS-M-20000/12 is a process system designed to measuring flow rate, determine gas composition, calculation of a calorific value, a density, a relative density and a Wobbe index of the fuel incoming to the CCGT.
The throughput of bi-linear GMU is 185,000 m3 / h. This equipment allows to carry out mutual financial calculations between the supplier, the gas distribution company and the consumer, to control gas flow rate and hydraulic modes of gas supply systems, to draw up balances of gas reception and supply, to control fuel use efficiency.

REFERENCE. Novogorkovskaya CHPP has been commissioned in 1956. It is the energy center of the Kstovo industrial site and provides needs for electricity, heat and steam of industrial and agricultural enterprises as well as the population of city.