Operating time of fuel gas treatment system for the 190 MW CCGT of Novomoskovsk SDPS exceeded 55 thousand hours
15 January 2021

ENERGAS gas treatment system provides the turbine of combined-cycle plant with fuel that meets the design parameters for purity, temperature, pressure and flow rate. This process equipment is composed of block-type gas treatment station (BGTS) and booster compressor station (BCS).
At the end of last year, the gas treatment system underwent comprehensive maintenance: BGTS – according to regulations-8000, BCS – according to regulations-4000. At the moment of maintenance, the operating time of equipment exceeded 55 thousand hours. Regular routine works has been performed by the specialists of ServicENERGAS (part of ENERGAS Group).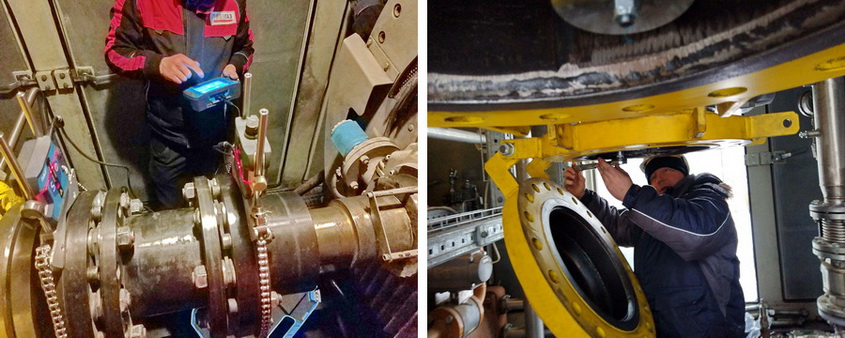 Gas treatment station is a multifunctional processing unit with a capacity of 60,000 m3 / h, the main purpose of which is measurement of gas flow rate and gas filtration.
BGTS is equipped with gas metering station and high-efficient separation system. The degree of gas purification from solids and condensed moisture (larger than 10 microns) is 99.98%. The station is additionally equipped with standby filtration line and gas dew-point measurement system with a sampling device.
Block-type GTS is placed in its own weatherproof shelter with integration of the equipment on a single frame. It operates in automatic mode; it is equipped with life support systems and safety systems.

Booster compressor station performs compression and feeding fuel gas to the turbine under operating pressure of 3.2 MPa. BCS is composed of two compressor units (CU) of screw type; capacity of each is 16,500 m3 / h.
CUs are equipped with two-level systems of capacity control (bypass line and spool regulation), individual ACS, as well as with group-technology cell of automated control system which is integrated into APCS of the combined-cycle plant.
Compressor units are placed in separate sound- and heat-insulated enclosures; they are equipped with systems of primary and emergency lighting, heating and ventilation of premise, gas detection and fire extinguishing system, systems of individual oil feeding and gas cooling.

REFERENCE:
Combined cycle gas turbine unit (CCGT) with electric capacity of 190 MW was commissioned at the Novomoskovsk State District Power Station (SDPS) in 2013. At the base of CCGT there are gas turbine of type Frame 9E (PG9171E) manufactured by General Electric, steam-turbine unit of type SST PAC 600 produced by Siemens and waste-heat boiler. The fuel is natural gas.
SDPS is a production unit of the branch of PJSC Quadra - Central Generation. The power plant provides heat for more than 100 thousand residents of the Novomoskovsk (Tula Region) and supplies power to 20 industrial enterprises.
The installed electric capacity of power facility is 233.7 MW; thermal capacity is 362.4 Gcal / h. In 2019, Novomoskovsk SDPS celebrated its 85th anniversary.