At the Kremen power generating unit of Novokuibyshevsk CHPP-1, the gas turbine unit was overhauled using a diagnostic robot
19 July 2021
At CHPP-1 in Novokuibyshevsk (Samara Region), the specialists of PJSC T Plus completed the overhaul of a gas turbine unit of the PG6111FA type (station No. 1). In particular, at GTU No. 1, an examination of the hot gas path and the generator was carried out with a comprehensive inspection of all assemblies and circuits. A specialized diagnostic robot helped to do this. In parallel, work was performed on waste-heat boiler No. 1 with cutting out specimens of heating surfaces for metal control.

The set of implemented measures will increase the station's reliability and minimize the risks of unscheduled shutdowns of generating equipment during the heating season 2021-2022.
The Kremen power unit with capacity of 231 MW was commissioned at the Novokuibyshevsk CHPP-1 in October 2013. Electricity is generated by three PG6111FA gas turbine units manufactured by GE, the rated performance of each GTU is 80 MW.
Output of thermal energy is provided by three steam waste-heat boilers of the Belgorod plant Energomash. They use heat from exhausted hot gases (combustion products of fuel in turbines), which significantly increases the overall fuel effectiveness.

The power unit, constructed on investment project of the T Plus Group, became one of the most efficient and technologically advanced facilities of a new generation in the Middle Volga. Its equipment is consistent with high environmental standards established in the Samara region.
The supply for the turbines with fuel gas with the design parameters in terms of purity, temperature (up to +90°C), pressure (3.5 MPa), and flow rate (80,000 m3 / h) is guaranteed by the ENERGAS process system which comprises block-type gas treatment station and gas booster station composed of three compressor units.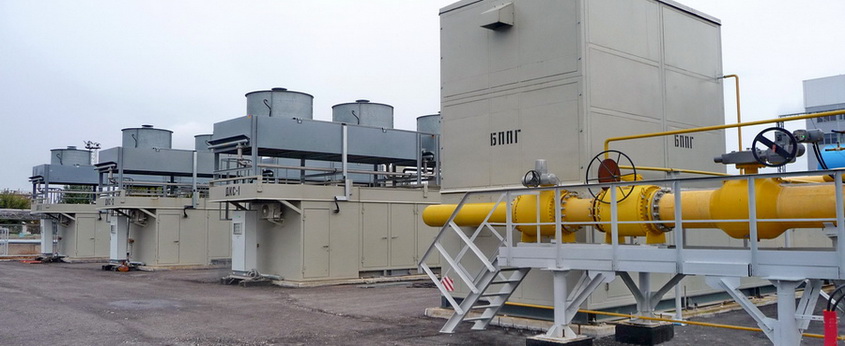 REFERENCE:
The construction of CHPP-1 began in 1948; the main capacities were formed in the first half of the 50s with the commissioning of 13 boiler units and 11 turbo generators. Today, the power plant, being the primary energy source for Novokuibyshevsk, provides the city's housing stock and industrial enterprises with electricity, heat, and hot water. The installed electric and thermal capacity of NkCHPP-1 is 314.5 MW and 204 Gcal / h.
The Kremen and Volzhsky Agate power units, built respectively at Novokuibyshevsk CHPP-1 and Syzran CHPP of PJSC T Plus (formerly Volzhskaya TGK), became the first facilities in Russia to be equipped with GE turbines of the 6F model range. The units of this series - 6F.03, Frame 6FA, PG6111FA - are characterized by high effectiveness: they generate up to 87 MW of capacity in a simple cycle and provide efficiency of more than 57% in a combined cycle. The advantages of these turbines include operational flexibility and reliability, compactness and the ability to operate on various fuel types (natural gas, distillate, synthetic fuel), as well as low NOx and CO emissions - less than 15 ppm and 9 ppm.